From laid off to LIFE . . .pending. . .
From Trump being named President, to the loss of several pop culture icons, to Mariah Carey's 30-something-minutes left till the New Year onstage meltdown; 2016 was undoubtedly deemed by millennials and the like, as the year of the grim reaper. While my story is lesser known, I like many commoners, was too a victim of the grim reaper's scythe.
As a preface to my tale, in early 2016 I closed one door and entered another at a new company. While there, I satisfied a major career goal of working as a writer and "editorial delegator" at a known publication. But unfortunately, after 7 months (and a few complications) I made the tough decision to exit the position. Lucky for me, my former boss (along with her bosses) were gracious enough to allow me to return to my old freelance copywriting gig. The same gig I said goodbye to earlier in the year, came back to as a part-time freelancer mid-year (to make ends meet) and by the close of the year, I returned to full-time.
The month was September and the cycle felt endless. I adored my boss and co-workers, but I was miserably unhappy. Thus the hunt for stable, more fulfilling work recommenced.
Fast-forwarding to Wednesday, November 30, 2016, at roughly 12:45 P.M. (I remember primarily because I took lunch around that time) my boss emailed me a meeting invite. Considering the team had weekly touch-base meetings on Tuesday's, I initially found myself a bit confused. But having worked in ECommerce, our team was subject to rapid change with little choice but to roll with the punches. So, I considered the impromptu meeting as another punch to roll with. However, when I realized none of my e-comm. comrades were copied on the message; I panicked.
The meeting time was set for 1:30 P.M. I, of course, replied yes to the invite and next sat at my desk exercising all the possible topics my boss yearned to discuss. At the top of the list was my performance, number two; my visual dissenting attitude regarding conditions of the workplace (which was shared quietly by many) and third; those aforementioned rapid changes and my possible (and very non-intentional) non-adjustment to them. The fourth likelihood that spatted in my mind, was being laid off. While we'd all suspected that "the tap" may be coming for some, the more "tenured" staff (I was a freelancer with the company for over a year) would be safe from potential cuts.
Nonetheless, at 1:29 P.M, I entered the office in asimilar form to Rhonda Rousey's entrance into the ring alongside Amanda Nunes; with all intentions to win, but knowing that defeat lie dormant in the shadows. The meeting started friendly, sharing small talk about the upcoming holiday season, but within 1-minute, my boss (who's amazing btw), went in for the kill. She told me I was being laid-off.
*Blow number one*
I gave myself a 50-second pep-talk before responding. Ok, no big deal. I'll dust myself off. I'm a freelancer. I was lucky to have this gig for as long as I did considering the circumstances. Just whoo-sah, it likely won't go into effect until next year. I can plan things out. I replied, "Oh wow, I didn't expect to come into this meeting to hear this." Next, sympathetic regards we're exchanged from her end before being dealing the ultimate blow; Friday, December 2 (meaning the day after tomorrow), would be my last day.
*Blow number two* And like Rousey, I was out.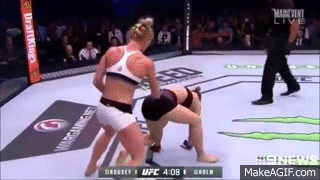 The meeting commenced, but my racing thoughts took stage. Regular bills, holiday bills, holiday outing bills, and more regular bills – oh my! However, my now ex-boss cushioned the blow with a heartfelt apology, paired with a reminder that she knew that this position wasn't making me happy. As we sat across the table, I extended a great front of nods and smiles, but, like Rousey, I stood defeated yet again. I continued my workday and left for the evening brooding in failure.
The final two days were a bit hazy; informing immediate family and close friends of the fatality and fronting a cucumber cool attitude when saying goodbyes to co-workers (who secretly yearned to trade places). All the whilst rehearsing my responses for the adverse opinions soon to be pointed in my direction. Not knowing what to expect, adopting the negative approach seemed to be the easy way out. It felt natural to simply wallow in the self-pity of taking another one of 2016's L's to the chin.
However, one trait I pride myself in, is my swift ability to get over myself and look at the bigger picture. Following my first week of "laid-offness", I questioned; was being laid-off really a 2016 L? Did you honestly enjoy feeling stuck for the sake of a dollar? Why are you allowing your 2016 wins to take a backseat and pessimism take the wheel? Everyone who counts has been supportive. The only one harshly judging you is YOU.
Wow, I was right. But what next?
As a Gemini and a creative, I admit my thoughts can be a bit scattered. But in my line of work, I've learned remaining on task requires creating an editorial calendar or list of some sorts. Only this time, the list (and I use this word loosely) I'm creating wouldn't consist of stories to be written, edited and published. Instead, it consists of the actions I need to write, edit and "publish" in order to become a better version of myself, and (in my best Oprah impression) make 2017 my greatest year ever. And while I'm no guru and remain a work-in-progress, I hoped to share my "list" with you.
Developing Goals
Goals are real ya'll. It isn't just some aimlessly overused hashtag. Goal setting is important for deciphering our true intentions, those same intentions that will ultimately help facilitate the life we desire. At least one of my goals is far fetched (ie; the one about me marrying Donald Glover) but beneath that leap-goal, lies a smaller goal. Something tangible that can be applied to everyday life and falls in line with that larger goal that lies in the horizon. Remember, baby steps count towards the path you aspire to lead in the future.
Leaving Room for Edits in My "X year plan"
At 23, when I graduated college I created a "5-year plan", beginning with vowing to never return back to school. One year later, I was enrolling in a Master's program. At 26, straight outta Drexel, having completed my Masters, with a bustling portfolio and contact list in tow – I then restructured that plan. Because I just knew I'd soon be living the dream. Now, here I am at 28 writing this tale, fully aware of how life doesn't always work in our favor. And that's okay. Experience is the best teacher; learn from her and take heed. Leaving room for life's edits in that trusty plan is necessary. Not only will it allow you to let go and release the unnecessary guilt you feel for not accomplishing what you thought you would. But it will also allow you to grow, and with this newfound growth; you can then adjust accordingly to life's lessons.
Write –Ish Down
When I was a youngin' my teacher once told me if you write it down it sticks. At the time I thought it was a tactic to coerce me into notetaking. But the older I get, the further I've advanced in my education and in life period; I've found this couldn't be anymore true. Not only is there something nostalgic about the pen hitting the paper, but it also causes you to become more committed to whatever it is you're writing. Even better, if you write it down and keep it in a place where you see it everyday, it makes you more likely to connect with it and then do it. So remember those goals I talked about? Yea, I've already begun writing those down.
Use Your Time Wisely
Time management is one thing I often struggle with. Not because I spend my days involved with meaningless activities, but I admit, I get overwhelmed. I spend too much time trying to perfect or accomplish one task. Which, is a gift and a curse at the same damn time. To resolve the issue, I've found that it's all about prioritizing. And again, it loops back to my previous point of writing ish down, as it causes you to remember what's more important. Plus, it helps when it comes to chipping away at that goal pie you're attempting to consume.
Also, I've begun devoting some of my newfound time to rediscovering my interests. As a child, I was an avid reader and fiction writer. Recently, I've picked up reading again and am almost finished Chapter 1 of a book that I never envisioned writing. Also, my love for fashion is causing me to re-explore other avenues of the field. I encourage you all to never give up on your interests and/or passions. Likewise, I urge you to devote at least an hour a day to them even if you're working full-time – I too, intend to practice what I preach once I'm back at work. Remember, if you've sacrificed 8-hours of your day to "the man", don't forget to commit time to doing what you love as well.
Allow a Higher Power To Keep You Grounded
Whether you pray to God, Allah or Buddha – pray. Developing a connection with a higher power is essential to conquering troubled times. But, one must remember that actually believing in what you're praying for is major key. Your prayers never fall on deaf ears to whichever deity you're praying to but; we must be submissive to faith. Likewise, in return, we must put in work to reach whatever outcome we're praying for. Which, I admit, is difficult for me because of doubt creeping in.
While it hasn't been easy, recently I've developed an extremely simple, 2-step process for myself, that I want to share
Rising with and ending my day in prayer (nothing complex about this one) &
Daily scripture reading
Easy right? Well, forming a connection with a higher power is easier said than done but, I'm making a conscious effort to pray daily and allow apps to help with my daily scripture readings. I've started using the Daily Bible Inspirations app (in the iTunes & Google Play store) which is three part system, as it allows you to read the word alongside related devotional literature and a journal prompt that provokes reflection of your spiritual journey. As I'm a work in progress, over time, I pray that I continue to grow in this area.
Everyday won't be Roses – And This is Why Self-Care is Key: How does the saying go? Nothing's worse than beating a dead horse or kicking yourself when you're already "down" (and keep in mind babygirl, even then you're not truly down). So, I'm learning not to do it. I really despise when people feel sorry for my situation, therefore I cannot feel sorry for myself.
As I continue this on-going quest of finding myself (alongside finding full-time employment), I've realized; I am no good to anyone or anything if I am not good to myself. So practicing self-care has become a form of selfish that I'm into. Your act of self-care can manifest itself in various forms; journaling, a nightly glass of wine, a bubble bath, an at-home-facial, a gel mani at the salon (my every 2-week splurge!), dinner alone – whatever! As long as you make sure it is executed with the intent to make YOU happy. Oh, and drop off the grid for a bit while you practice said form of self-care. Often times I find myself catering to others so much, that I forget about me – but I must remember my bolded mantra above. So, forgive me in advance if I need to shut down for a few hours. Having these moments to yourself are indeed golden to finding and maintaining your inner balance and overall, cultivating joy.
____________________________________________________________________________________
Remember my above "list", is a process that continues to grow and has no right or wrong to it. Homegirls, if you have any; practices, thoughts, suggestions, mantras, etc. you'd like to share or add – sound off in the comments! We're open to all positive feedback + opinions!
Xo,
D
FYI: NO shade to Ronda Rousey was intended; I admire her strength, drive & fearlessness!
Photo | GIF Credit: Tumblr